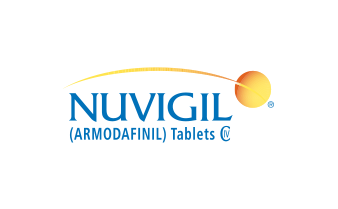 INDICATIONS AND USAGE
NUVIGIL is indicated to improve wakefulness in adult patients with excessive sleepiness associated with obstructive sleep apnea (OSA), narcolepsy, or shift work disorder (SWD).
Limitations of Use
In OSA, NUVIGIL is indicated to treat excessive sleepiness and not as treatment for the underlying obstruction. If continuous positive airway pressure (CPAP) is the treatment of choice for a patient, a maximal effort to treat with CPAP for an adequate period of time should be made prior to initiating and during treatment with NUVIGIL for excessive sleepiness.
IMPORTANT SAFETY INFORMATION
Contraindications: NUVIGIL is contraindicated in patients with a known hypersensitivity to modafinil or armodafinil or its inactive ingredients.
Serious Dermatologic Reactions, including Stevens-Johnson Syndrome and Toxic Epidermal Necrolysis: Serious rash, including Stevens-Johnson Syndrome and toxic epidermal necrolysis, requiring hospitalization and discontinuation of treatment has been reported in association with the use of NUVIGIL or modafinil. Skin and mouth sore, blistering, and ulceration have been reported with modafinil and NUVIGIL in the postmarketing setting. There are no factors, including duration of therapy, that are known to predict the risk of occurrence or the severity of rash. Although benign rashes also occur with NUVIGIL, it is not possible to reliably predict which rashes will prove to be serious. NUVIGIL should be discontinued at the first sign of rash, skin or mouth sores, or blistering or ulceration, unless the rash is clearly not drug-related.
NUVIGIL has not been studied in pediatric patients in any setting and is not approved for use in pediatric patients for any indication.
Drug Reaction with Eosinophilia and System Symptoms (DRESS)/Multi-organ hypersensitivity: DRESS/multi-organ sensitivity has been reported with NUVIGIL. One fatal case of DRESS that occurred in close temporal association with the initiation of NUVIGIL treatment has been reported in the postmarketing setting. In addition, multi-organ hypersensitivity reactions, including at least one fatality in postmarketing experience, have occurred in close temporal association to the initiation of modafinil. If a multi-organ hypersensitivity reaction is suspected, NUVIGIL should be discontinued.
Angioedema and anaphylaxis reactions: Angioedema and hypersensitivity (with rash, dysphagia, and bronchospasm) were observed with NUVIGIL. Patients should be advised to discontinue therapy and immediately report to their physician any signs or symptoms suggesting angioedema or anaphylaxis.
Psychiatric symptoms: Psychiatric adverse experiences have been reported in patients treated with NUVIGIL and modafinil. In controlled trials in adults treated with NUVIGIL, psychiatric symptoms resulting in treatment discontinuation included anxiety, agitation, nervousness, irritability, and depression. Postmarketing adverse reactions associated with the use of NUVIGIL, some of which have resulted in hospitalization, have included mania, delusions, hallucinations, suicidal ideation, and aggression. Caution should be exercised when NUVIGIL is given to patients with a history of psychosis, depression, or mania. Consider discontinuing NUVIGIL if psychiatric symptoms develop.
Persistent sleepiness and CNS effects: Patients should be advised that their level of wakefulness may not return to normal. Although NUVIGIL has not been shown to produce functional impairment, any drug affecting the CNS may alter judgment, thinking or motor skills. Patients should be frequently reassessed for their degree of sleepiness and functional impairment and, if appropriate, advised to avoid driving or any other potentially dangerous activity.
Cardiovascular events: Cardiovascular adverse reactions have been reported in patients treated with modafinil in association with mitral valve prolapse or left ventricular hypertrophy. NUVIGIL is not recommended in patients with a history of left ventricular hypertrophy or in patients with mitral valve prolapse who have experienced mitral valve prolapse syndrome when previously receiving CNS stimulants. If findings of mitral valve prolapse syndrome occur, consider cardiac evaluation. In clinical studies, a greater proportion of patients on NUVIGIL required new or increased use of antihypertensive medications compared to patients on placebo. Increased monitoring of heart rate and blood pressure may be appropriate in patients on NUVIGIL. Caution should be exercised when prescribing NUVIGIL to patients with known cardiovascular disease.
Drug interactions: NUVIGIL may interact with drugs that are substrates for CYP3A4/5 or CYP2C19. Dose adjustment of these drugs may be required. The effectiveness of steroidal contraceptives may be reduced when used with NUVIGIL and for one month after discontinuation of therapy.
Common adverse reactions: In clinical trials, the most commonly reported adverse reactions (≥5%) associated with the use of NUVIGIL were headache, nausea, dizziness, and insomnia.
NUVIGIL is a Schedule IV controlled substance because it has the potential to be abused or lead to dependence. Abuse of NUVIGIL has been reported in patients treated with NUVIGIL. Physicians should follow patients closely, especially those with a history of drug and/or stimulant abuse.
Physicians should be aware and inform their patients of the availability of the Medication Guide for NUVIGIL.
Please see Full Prescribing Information for NUVIGIL.